Robyn Meagher: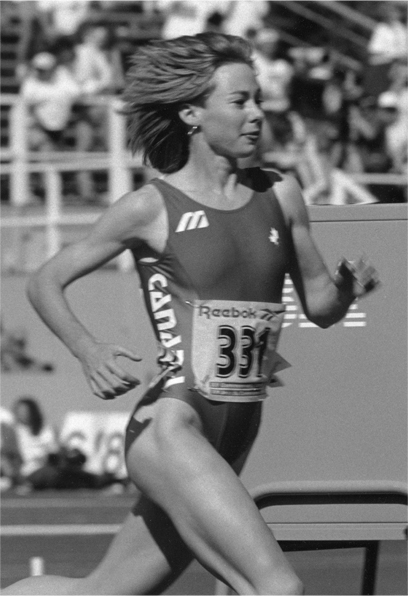 Robyn's running career spans 17 years on the Canadian National Team. Her remarkable longevity speaks to her simple joy of running. As she says, "I just loved running on the trails in nature—it was a meditative process for me." Her love of running resulted in some impressive accomplishments—2 time Olympian, World Cup and Commonwealth Games Silver Medalist along with dozens of other national, provincial and local championship titles.
Undoubtedly, one of her most memorable races was her Silver Medal performance in the 1994 Commonwealth Games 3000-meter final hosted in Victoria, British Columbia. After a challenging winter and spring season hampered with health issues, she arrived at the track the morning of her final determined to put in the best performance she could regardless of her circumstances.
After a slow start, one lap into the race, she found herself tied for last. At the halfway mark Robyn was still sitting in the second group far back from the leaders. However, with four laps remaining she began her move. The mainly Canadian crowd, now on their feet, cheered on Robyn as she moved from 4th to 3rd to 2nd place where she finished the race behind teammate Angela Chalmers.
Pursuing health education and wellness in her undergraduate studies (University of Victoria, 1991) was a natural fit for Robyn's passions. Seeing the primacy of relationships to quality of life led her to further training in building healthy relationships (Rosenberg's nonviolent communication, 1990) and conflict resolution with the Justice Institute's certificate in Conflict Resolution (1998, mediation and negotiation). Robyn applied her skills to her work as a mediator with the Fraser Region Community Justice Initiative (1997-1998) and their Victim Offender Reconciliation Program.
Seeing the effectiveness of process-oriented psychologies work with addictions and being drawn to its use of creativity, Robyn pursued a two-year certificate in Process Work (1998 Langara College and PWES). Process Work as developed by Dr. Arnold Mindell is an awareness practice that takes an innovative approach to individual and collective change. It brings together psychology, spirituality, social activism and creative expression within a single paradigm.
After retiring from running, Robyn earned her Masters in Education and opened a practice as a Registered Clinical Counselor. For more information on Robyn's work as a Clinical Counselor & Health and Performance Coach, please visit her website here.
Coupled with her compassionate and empathetic presence, Robyn brings a breadth of knowledge and experience to the Healthy High Performance School™ work. She is a tremendous resource for coaches looking to improve their listening and communication skills, as well as their aptitude for self-care.
Jason Dorland:
 Jason was born into a rowing family. His grandfather, father and older brothers all rowed at a high level. Jason spent his high school years rowing at Ridley College before continuing his passion in university. Once on the National Team, he set his sights on the 1988 Olympic Games in Seoul.
As defending Olympic Champions, the Canadian men's eight were expected to defend that title or at the very least medal. They didn't. Instead, they finished dead last in the final.
Much was made of that performance. The Canadian press held nothing back in their assessment of the young Canadian crew and their coach. Jason was unprepared for the feedback that filled national and local papers. It would prove his last race for Canada.
Decades later, Jason defines that experience and the troubled years that followed as the greatest gift he ever received. "It changed everything for me. Up until that moment, I was all about the prize. Now, I get it—how we travel our life's journey is more important than where that journey leads us."
Jason helped start an organic food business in 1996 in Vancouver after earning his degree in Graphic Design from The Emily Carr Institute of Art and Design. He then returned to university where he received his degree in Education before entering the teaching profession where he taught high school for fifteen years.
For ten of those fifteen years, he coached rowing—winning 12 International Championships, setting a Canadian course record time and becoming the first coach to win the prestigious Calder Cleland Memorial Trophy at the Canadian High School Championships with crews from two different schools.
Jason is also the author of two critically acclaimed books; Chariots and Horses and Pulling Together. For more info—click here.
To garner more information on the work that Robyn and Jason do with corporate and private clients—click here.
To find out more information on the Healthy High Performance School™ contact us today!